Final Blackjack game
Posted on: Saturday, Mar 29, 2014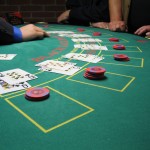 The last lesson (week) of the Tealeaf Academy Ruby on Rails Online Bootcamp was to add betting and AJAXify the Blackjack game.
I've had the wildest ideas and grand schemes to make the Blackjack game a fun, flashing, exciting and grand game that even could compete with the Casinos.
Unfortunately, I didn't had the time to make it in such a way and finish the first course at the same time. So I just added betting and AJAX to the application (a bit more AJAX then necessary though). This still resulted in a fun but simple Blackjack game.
Curious to see the final game? Click the link to play!
>> blackjack.codefish.org <<
Have fun!